Not only popular with tech startups
TLDs with .io are popular amongst startups and businesses of blockchain, NFT, software, game, electronic products and other technology related content. However, there is an increasing number of brand using .io to complement their innovation or new initivatives, in order to build new brand image and attract more young customers.
From now til 30 June, register your .io domain, enjoy 50% OFF*!
*Terms & Conditions:Promotion valid until 30 June 2022 | Customers must complete order payment on or before 30 June 2022 in order to get promotion offer | UDomain Web Hosting Company Ltd. All right reserved.
---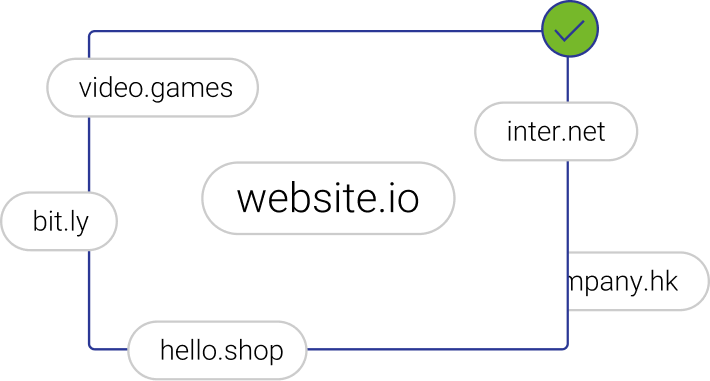 Creative domain hack to enhance unique brand identity
Businesses and companies can take advantage of choosing their domain name. Create your desired domain name that suggest a word, phrase or brand by combining two or more adjacent parts of the domain.
A meaningful and unique name will raise your customers, interest, as well as positioning your brand.
For example: the domain name of shorten URL service Bitly is "bit.ly".
---
Why UD
1. User-friendly process
Registering a domain with UD is simple and easy. The entire registration takes less then 3 minutes; and multiple payment methods are available for you, including Visa, MasterCard, and PayPal.
2. Value-added services
Domain registration is just the beginning of your new business. UD provides a wide range of related services, including domain locks, email service, web hosting, web design etc.
3. 24/7 customer service
As your trusted service provider, UD provides 24/7 customer service in English/Cantonese/Mandarin since 1998. We support your business anytime anywhere.
4. Premium network
UD offers the up-to-date server hardware that are connected directly to HKIX with over 100Gb+ local bandwidth, with 99.99% uptime guaranteed.