Online Shop Platform Case Study: Master Chef Launches E-shop Via App, Boosts Sales Amid Epidemic
"Gourmet Master Chefs Abalone" starts its online business with Boutir e-shop, seizing the epidemic business opportunities
2021-07-28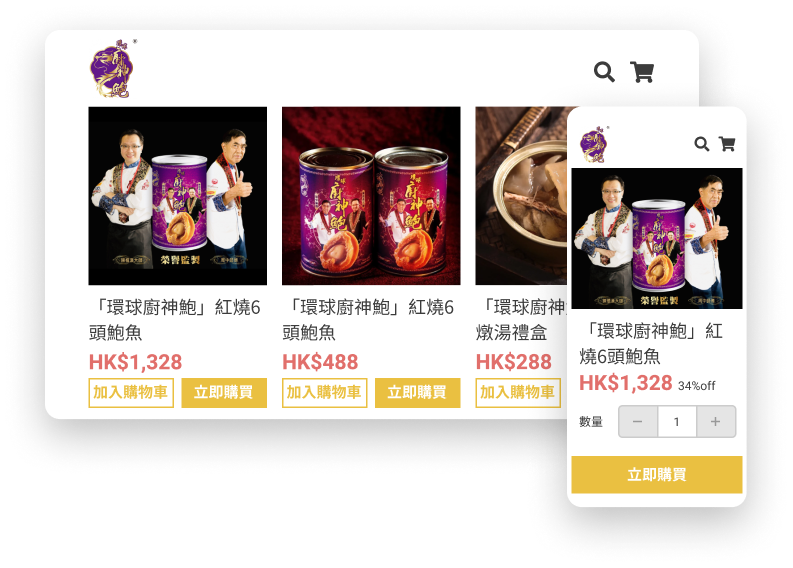 People are all staying at home during the epidemic, driving the growth of instant-goods against the market. In 2020, Zhou Zhong, Hong Kong renowned chef of Michelin, and Chen Zhihan, President of Gourmet Master Chefs, jointly launched the canned abalone – "Gourmet Master Chefs Abalone". With high-quality, delicious, ready-to-eat abalone, the new product aims to seize the epidemic business opportunities.
Client Background
Client
Solution
Challenges
Businesses of offline retail stores were significantly affected amid epidemic. The two founders planned to open online store to increase sales, expand the customer base from offline to online, and ultimately increase the turnover. However, it is a new business initiative for Gourmet Master Chefs, they lacks technical talents and resources to establish, manage and maintain the online store, not to mention their budget is limited.
UD Solution
Boutir provides users with one-stop online store management services, from store opening, product launch, promotion, payment and delivery methods set up, to customer service, these can all be done within the app. All you need is a mobile phone, you are able to easily manage your e-stores anytime, anywhere.
Achievement
110% increase of total revenue within three months
Successfully establish VIP system to acquire loyal customers
Successfully capture local customers, as well as customers from Mainland China and Macau
5 Keys to Success
1. Easy control via mobile

With all the functions built in the app, users can set up and manage their own online stores at their fingertips. Moreover, the design of the interface is simple, and there is no limit on the number of products listed. Even chefs who are not familiar with computer and web design are able to handle it.

2. Launch new promotions anytime

It is convenient for users to list new products and ideally followed by promotions to push sales at any time. After "Gourmet Master Chefs Abalone" made its debut with 6 pieces of Braised Abalone, Zhou Zhong rolled out a limited time "Buy abalone, get free dried fish maw" campaign, which successfully increased 40% sales.

3. Best customer services to acquire VIP

"Gourmet Master Chefs Abalone" is able to communicate with customers and handle inquires via the instant messaging function. As a result, the number of long-term loyal customers is gradually increasing.

4. Low cost, high performance

Considering that the client have limited budget, Boutir can fulfil their requests without spending tens of thousands of dollars on new web design and website maintenance. No listing fee or transaction fee is required. Client has set up the e-shop for "Gourmet Master Chefs Abalone" with a reasonable monthly subscription fee, but largely increases the turnover, it is completely cost-effective.

5. Leverage the China network to gain market advantage

Zhou Zhong and Chen Zhihan are well-known across Guangdong, Hong Kong and Macau. Fans from all over the world are very supportive of their products. Boutir has an ample network in Mainland China, which allows a large number of Mainland customers to buy "Gourmet Master Chefs Abalone". It significantly helps the brand to further expand their presence across the regions and attract more customers.
"People are getting used to online shopping nowadays. We see more and more online stores have emerged. We are very happy that Boutir empowered us to keep up with the latest market trend, and helped increase the turnover of our company. With all the insightful analysis and professional advice that UDomain team provided, even novices like us are able to easily open an e-shop."
—— Mr.Chan
Gourmet Master Chefs