Discord Server Setup & Community Management Services
The Essential Marketing Channel for NFT & Blockchain Projects
Community takes a vital role in NFT project. But instead of traditional social media platforms, Discord becomes the main marketing channel for every NFT project. With unique features - cross-platform support and an array of blockchain-based bots, Discord is the perfect platform to market and manage your NFT projects. UD offers one-stop solution to help you set up Discord server, manage community and mitigate risk of server being compromised.
Why should you use Discord for NFT Projects?
Discord has every feature that NFT projects need to run their community management, engagement and marketing.
Community Management
Discord features user roles and permissions to enable hierarchical management in the community. Channel categorized by functions or topics can facilitate discussion among the communities.
Effective Customer Service
Why customer service is so important to NFT projects? Keeping your current and potential investors and community members up to date is a way to build credibility and word-of-mouth publicity of your project. Discord enables you to deliver instant official announcement to members, and interact with your community through various activities, such as hosting live event AMA.
A Wide Variety of BOTs
There is an array of blockchain-support bots that are available to use on Discord. You can setup bots for verification, giveaway, voting, content control and more, minimizing your administrative operation.
UD helps you set up Discord server and manage communities.
With our professional insights and technical support, bring your NFT projects to a wider audience.
Discord Server Setup Services
Community & Channels
Security Review & Audit

Features include
Users & channels permission
User roles (setup & level up mechanism)
Member verification function
Whitelist function
Giveaways function
Member invite tracking
Spam & external link filtering
Auto response
User blocking
NFT verification

One-off Setup:
HK$62,500 up
Service Enquiry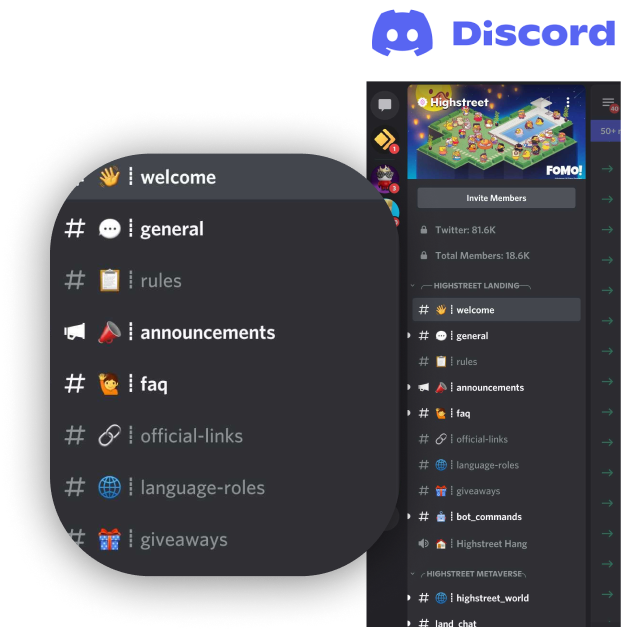 ---
Discord Community Management Services
Official Announcement
Roadmap
Member Invitation & Recruitment
Community & User management
Improve User Engagement
Chinese & English Support
Quarterly security review included

Dedicated Community Manager:
HK$12,500/month up
Service Enquiry
Opt into Discord for NFT project marketing, engagement and community management with UD today
Service Enquiry